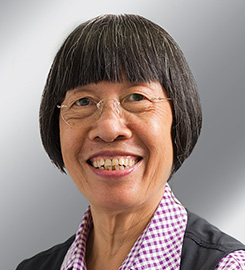 Dr Rebecca LEE Lok-sze,
MH
Founder, Polar Museum Foundation
Certificate in Commercial Design, 1964
University Fellow, 2009
Awardee of OPAA 2003
Renowned as the first Hong Kong person and first woman to have visited all three extremes of the earth, i.e., the Arctic, the Antarctica and Mount Everest, Dr Lee has made immense contributions toward polar exploration over 30 years. In 1997, she founded the Polar Museum Foundation Ltd. with an aim to consolidate scientific research findings about polar exploration from all over the world to advance global environmental protection. Dr Lee received the Honorary Doctor of Humanities degree from Lingnan University in 2000 and was awarded the Medal of Honour by the HKSAR Government in 2008 as well as conferred as University Fellow by PolyU in 2009. Dr Lee is currently the Honorary Adviser of the Hong Kong Institute of Vocational Education (Chai Wan), Science Adviser of the Hong Kong Leisure and Cultural Services Department and Vice Chairman of the Scout Association of Hong Kong Programme Committee.